Exceptional Prefab Eco Homes - introducing the Abri range
These ultra high performance prefabricated homes have a size to suit every family and budget. With a contemporary style and extremely high quality of construction, these bright and well designed homes are an affordable and high quality choice when thinking of building a new place to live. Everything is planned in advance, leaving nothing to chance and ensuring a quick and smooth assembly to a high quality controlled finish and performance.
Designed around the concept of enjoying the outdoors, each model wraps around its indoor/outdoor deck, creating a haven away from the wind and allowing an intimate family area that extends the living space into the garden.
Much more than just a beautiful face, designed from the outset to stringent LEED® certification standards, and with the possibility of adapting to a Zero Energy Ready home, the Abri models are just one of many Architect designed green prefab eco homes in the growing range from Ecohabitation in Montreal. Created by the renowned eco-conscious Architects Studio MMA Architecture & Design, and manufactured by Batiment Prefab Inc of Quebec, these homes are exceptional value for money being priced in $CAD, especially at this level of specification, sustainability and internal air quality. To confirm pricing for the size and type of prefab home most suitable, including delivery to site and with the final specification desired, click here. 
Architect styled for comfort, light and privacy
The Abri is the kind of home that makes an immediate and lasting impression. The exterior is understated yet refined; these are beautiful homes that will blend into either urban or rural surroundings. The concept behind the design is family, harmony and good living - all rolled into one. The warm and inviting interior wraps around on one side creating a private and intimate space that can be carefully oriented on a building lot to optimize solar gain, provice shelter from prevailing winds, or simply offer privacy from neighbours and the casual gaze of passers-by.
"The name Abri in French means Shelter and was inspired by the wrap-around style of this home. Above all, I feel that homes should provide a shelter to enjoy our quality Family time" explained Rob Miners, architect, PA LEED BD+C, Director at Studio MMA.  
The Abri prefab models are all arranged in a logical L shape, so with their encompassing shape and seamless connection with outside they fulfill the design brief perfectly. The entrance faces the driveway, giving an attractive appearance but modestly hiding the contemporary interior. In the crook of the L, the open-plan living area forms the heart of these well thought out homes.
This deceptively spacious room opens to the garden through exceptionally proportioned triple-glazed windows, allowing a generous amount of natural light to stream in. Ideal for an overwhelming feeling of calm, well-being and connection to the outside. You'll also notice the extended eaves which provide enhanced protection from the summer heat,  and at just the right angle can also offer free passive heating courtesy of  the winter sun. 
This main room is 650 sqft and provides a genuinely open feeling by the way it's arranged, even in the most compact version at only 550 sqft overall. 
"By removing the barriers between rooms and creating long sight lines, it's possible to live in more compact areas yet have a real sensation of space. The 9' high ceilings give the final touch",  adds Rob Miners.
"This Rancher style property is particularly interesting for those downsizing as they approach retirement age: they are very suitable. The Abri is the perfect type of home for families, for accessibility when reduced mobility is an issue, or for those in middle age who are choosing a home to retire into." 
says Benoit Gingras - President of Batiment Pre-fab, the manufacturers
This room is visually and functionally enlarged by the adjoining deck area. Enclosed to the roadway and the north side, this beautifully affordable, high-quality prefab home can also have an exterior solarium with integral bug screen as an option. This adds to the end of the main house, and allows the full enjoyment of the great outdoors in those areas known for an abundance of nature - including the insects that go with lakes and rivers in particular.
A minimalist interior warmed by nature 
To expand the sensation of interior space, the Architect team at Studio MMA decided to work with a minimalist design ethic. The room is a careful balance of light reflecting on the lighter surfaces and the natural and welcoming beauty of natural wood finishes.
The built-in furniture - which adds to the value of the package - is modern, simple and beautiful. Placed around the kitchen area and the high north-facing wall, these generous storage areas allow the whole families' posessions to be neatly stored away.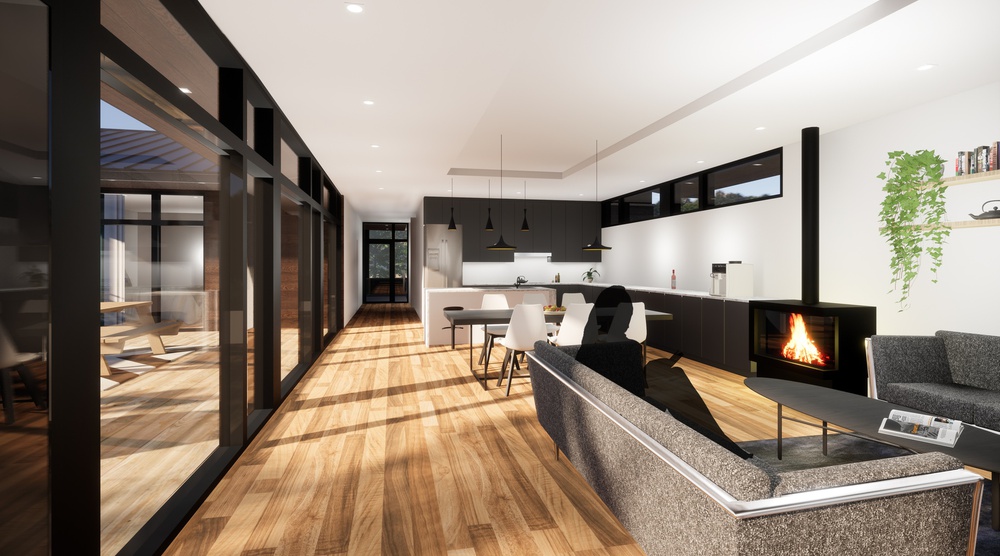 As an option, this prefabricated home can be customized to the preferences of the client and delivered in turnkey specification, including; walls and ceilings with plasterboard finish for thermal mass, kitchen island and cabinets in low VOC & formaldehyde-free plywood with hardwearing UV finish , non-toxic quartz countertops, every effort having been made to ensure these homes have an exceptionally healthy indoor air quality.
Passive Solar Homes: leading by design
The spectacular picture window in this model range of high-performance prefab homes is just over 36 feet long, and optimized for passive solar gain. This results in significant energy savings for this model of home over winter. At the same time, to prevent overheating in summer from this vast expanse of glass, and to protect the walls from rainfall, the passive house standard triple-glazed windows are complimented by carefully calculated roof overhangs at the eaves.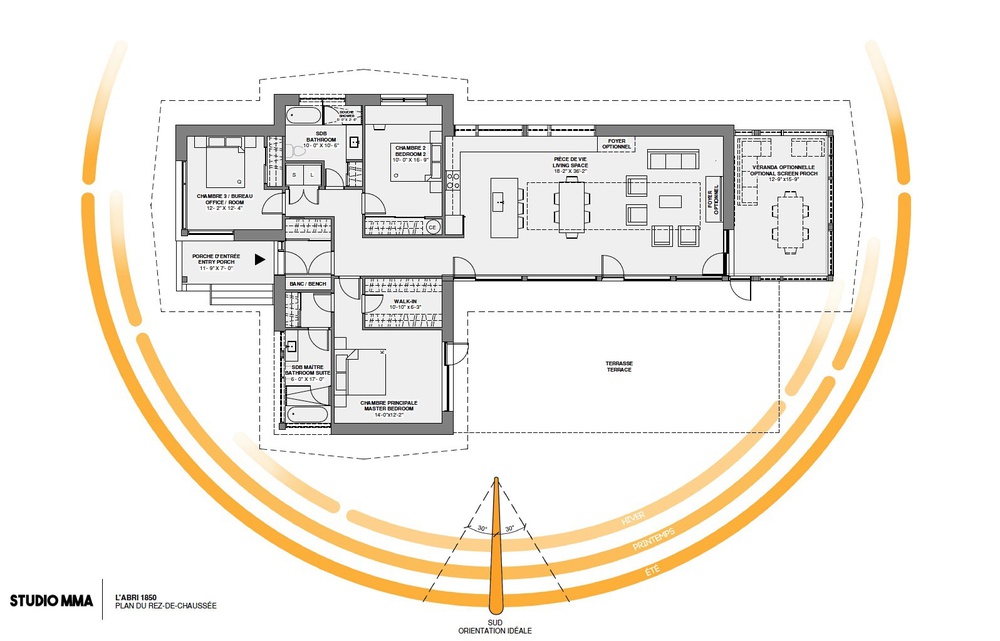 On the north facing side, this cleverly designed prefab kit home turns it's back on the cold; and with it's high placed windows the daylight can still stream in without letting folks passing-by get a clear view of the interior and family life adding instant privacy. The south-facing deck benefits from maximum sunshine and creates it's own microclimate - extending the seasons where it's a lovely area to sit out, top up vitamin D levels naturally and generally soak in the ambiance of the garden.  
Under the beautiful exterior, these affordable prefab homes also excel, with reinforced insulation in both walls and roof, with triple-glazed argon filled and coated windows, the Abri is conceived and constructed to be Passive Solar rated, LEED or even a Zero Energy Home when suitably specified.  
High-performance building envelopes built carefully with healthy materials: the best of prefabricated homes by Bâtiment Pré-Fab & Studio MMA
Imagine for a moment buying a new car where it was up to the buyer to research and decide on every component, then have it delivered in countless boxes of parts, have it assembled by subcontractors in the driveway over the course of a year or more before you get to check if it works the way it's supposed to. Sound like a ridiculous idea? Well, that's how we traditionally build custom homes! Yeah - "traditional built" is starting to look very old-fashioned...
"Prefab" or "Prefabricated" Homes - to use their full name - have in the past been associated with poor to mediocre quality trailers, double-wides and park homes. Sure, they were and are cheap compared to a full custom home, but traditionally their performance has been acceptable at best, and shockingly poor at worst. The latest generation high-end affordable prefab homes are carefully designed, built using high-performance materials, put together in a high-quality manner in a factory on a production line, and offer exceptional value for compared to custom-built homes. 
As soon as the very experienced and award winning team at Montreal based Ecohabitation began talking to the team at Architects Studio MMA and the manufacturers Bâtiment Pré-Fab, they had one goal - to establish a range of exceptionally sustainable green homes with healthy and high-performance materials and to standardize the manufacturing process so these beautiful homes could be affordable.
Each expert collaborating on this project was encouraged to bring their 'A' game so that the whole Abri range uses the best of everything - as found in high-end custom homes - and packages that with skillful manufacturing in a controlled environment so that the finished product performs flawlessly at delivery, and for a very long and low-maintenance lifespan. These prefab eco homes are truly exceptional - and not simply in the minds of a marketing department - they were designed, engineered and built that way.   
" Bâtiment Pré-Fab and Écohabitation were outstandingly compatible partners in this project. The experience and expertise of all those involved benefitted the performance and quality of these green prefab homes " confirmed Rob Miners.  
The manufacturing team at Bâtiment Pré-Fab assemble each panel carefully in the factory - the double-skinned walls are internally insulated with high density cellulose and an additional rigid insulation panel is fitted to the outside to wrap these homes in comfort and energy-efficiency. After being transported to site as a giant flat-pack, these panels are expertly assembled on-site.
Each component has been pre-engineered for high performance and durability. High quality, customization options and speed of construction are all advantages of this method of home building. When the attractive pricing is factored in, and other high-end components like air-heated super-insulated radiant floor slabs, low carbon concrete and the exceptional indoor air quality that comes from choosing and using the highest quality sustainable building materials, it's no suprise how popular these affordable prefab eco homes are.   
"Bâtiment Pré-Fab are delighted to be offering prefab homes at this level of Architectural and sustainable design: demand has never been higher! Our challenge is now to manage our growth to be able to meet the demand in Quebec and throughout the North East of Canada & the USA", says Benoit Gingras.
The Abri: the affordable prefab home with certified performance
Engineered for performance; as an example from the range, the 3 bed prefab Abri 1850-BV rancher style eco home as delivered, only uses 27 kWh/m2 or 27.1 kWh/102ft over a regular chilly north-eastern year - equivalent to just $770 USD per YEAR - or $65 USD per month total energy bill.
Add a solar heated floor, or specify Zero Energy Ready and add Solar PV to the south facing side of the roof, and this home is able to generate zero energy bills, and actually EARN the owners some money back in the future! Every location is different, so our initial calculations for New York state indicate an expected payback time of around 4-5 years for solar PV on this home. Additionaly - this model of eco-friendly prefab is eligible for LEED® Platinum certification and Novoclimat if in Canada - as standard!   
Every tiny detail of design has been optimized for performance in the Abri range of high-end prefab eco homes - especially around the high performance door and window openings - and eliminates thermal bridging.
"We have acheived an outstanding level of sealing for water, air and heat in these homes by careful design", says Rob Miners
Only Top-Quality components are used in these prefab eco homes 
So much of the design of these beautiful and luminous prefab homes is based around the expansive glazing that it has to be the highest performance available. Triple-glazed panes filled with inert argon gas with a double-coating of low-E surface treatment are specified throughout. These are quivalent to an R 6 window. By comparison, regular double-paned windows found in standard code-built homes offer only about  R2, which is aproximately  only 33% as efficient. 
The Abri also features a steel roof for eco-friendliness, durability and a great appearance. " For the walls we have a choice of prefinished timber siding which can be of contrasting or complimentary tones as desired and which is stabilized for easy maintenance" adds Rob. 
3 Sizes of prefab homes; all affordable 
The efficient design and construction of the Abri range of contemporary prefabricated eco homes allows families to afford an exceptional home at an affordable price. The 3 different models are based around the number of beds needed:
The Abri 1850-BV prefab eco home has 3 bedrooms and 2 full baths. Ideal for those looking for a family home, or those who have the space and budget for a spare bedroom for visitors and an office space, TV or separate craft or hobby room. Nobody will believe this is an affordably priced 3 bed prefab eco home once they see it.
The Abri 1100-SV (specification page coming soon) is a 2 level model prefab home perfect for a sloping building lot, with one enclosed bedroom and the space for 2 murphy beds for guests. An intermediate size which is more compact that the 1850-BV but still spacious.
The Abri 550-BV is a tiny house style loft space prefab eco home, which doesn't have an enclosed bedroom but is designed as a flexible living space with Murphy bed. Ideal as a cabin for 2, an ADU or a very comfortable prefab home office. If looking for a Tiny Home on wheels for sale - read this first
Worth noting that the bonus solariums aren't even included in the quoted floorspace, discover more about the Abri range and get a quote today! 
See More Images & Get Pricing for the Abri